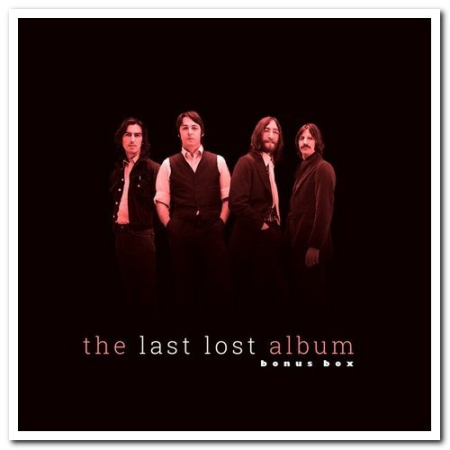 mp3 320 kbps / FLAC (tracks, scans) | Genre: Rock, Pop | 5.6 / 10.7 GB
The Lost Album Tetralogy brings together absolutely everything * that was never officially released until the present year (2020):
home demos, studio demos, unreleased/unpublished songs, studio sessions outtakes, home jams, rehearsals, improvs, alternate takes/demos, concerts, covers, auditions, unpublished alternate mixes, studio monitor mixes, acetates, informal sessions, home tapes, live recordings, reunions, appearances on tv/ movies/radio/specials video/events/songs in interviews and everything else involving Beatles unofficial music audio.
In addition to all this we have reserved for the last tetralogy chapter a wonderful surprise. For the first we present to the public our own remixes (and a few from other sources) that have been carefully crafted for over a decade to offer the audience a complete new way of listening to the Liverpool quartet. Absolutely incredible!
* [Except some rehearsals from songs that make up the Let It Be album plus Don't Let Me Down, Old Brown Shoe, Teddy Boy, Oh! Darling,
Maxwell's Silver Hammer and She Came in the Bathroom Window from the Get Back Sessions, 1969, for they contain large quantities of the same songs with very similar performances.
For the same reasons this Tetralogy does not include all recorded concerts.
But it rigorously includes all the live setlist the group has ever performed, selected from the best and most important concerts.
In both cases (Get Back Sessions and live concerts) the highest quality and the most significant versions
(a huge number of them) were selected and treated (leaving out only unfinished rehearsals/poor performances/poor recording quality).
The research work was intense, rigorous and meticulous. Over the decades we have gathered the rarities of our own collection as well as
literally hundreds of bootlegs around the world, in addition to exclusives granted directly by our friends at Apple and Beatles inner circle.
After all this research, so that nothing was left out, we started the comparison process to select the best quality source for each song.
Then we began the delicate work of treatment, corrections and remix (whenever they were needed).
The Lost Album does not use the same anthology criteria as the regular collections to present the material in chronological order.
The (unprecedented) proposal of the TLA has an artistic character: as an artist plans his album, song by song, imagining a connection,
cohesion and a narrative throughout the whole album. We chose this concept so that the listener can experience a lively artful expression,
not just "a visit to the Beatles museum". In fact, each disc of each box should be considered an album by itself.
For this reason each disc of the last volume received its own album title.
A respected Beatles collector and scholar, when presented with the preview of The Lost Album Vol I, after an enthusiastic reaction, brought us a single complaint: "So you give the listener all the rare material without any effort, that's not fair!
This goes against the bootlr collector's idea to research. The effort is part of the adventure!".
Thinking about this (also the concept of an artistic album) we decided to leave a huge opening journey without any track info (takes, date, lineup, recording location, composers, etc.), so that the listeners have a guaranteed great adventure, if they want to investigate the amazing Beatles hidden world!
We would like to thank all the amazing collector heroes who have been providing us with unpublished material spread over thousands of bootlegs.
We would also like to thank our friends with direct links to the Beatles, who over the years have provided us with incredible rarities.
We thank and dedicate this project to all Beatles fans who keep this band alive as if nothing happened after 1970.
And finally, we thank the Fab 4 for making our experience on Earth a Magical Mystery Tour!
1.1 We're Gonna Have A Good [Remix] 03:02
1.2 Hello, Goodbye [Remix] 03:26
1.3 Back In The U.S.S.R. [Remix] 02:46
1.4 Paperback Writer [Remix] 02:16
1.5 Girl (Instrumental) [Remix] 02:33
1.6 And Your Bird Can Sing [Remix] 02:41
1.7 Can You Take Me Back? [Remix] 00:30
1.8 Dear Prudence (Instrumental) [Remix] 04:06
1.9 Sgt. Pepper's Lonely Hearts Club Band (Instrumental) [Remix] 02:10
1.10 With A Little Help From My Friends (A Cappella) [Remix] 02:28
1.11 Lucy In The Sky With Diamonds (Instrumental) [Remix] 03:37
1.12 Getting Better [Remix] 02:40
1.13 Fixing A Hole 02:38
1.14 She's Leaving Home (A Cappella) [Remix] 03:30
1.15 Being For The Benefit Of Mr. Kite! (Instrumental) [Remix] 02:37
1.16 When I'm Sixty-Four (Instrumental) [Remix] 02:39
1.17 Within You Without You [Remix] 05:07
1.18 Lovely Rita (Instrumental) [Remix] 04:12
1.19 Good Morning Good Morning (Instrumental) [Remix] 02:43
1.20 Sgt. Pepper's Lonely Hearts Club Band [Reprise] (Instrumental) [Remix] 01:22
1.21 A Day In The Life (Instrumental) [Remix] 03:06
1.22 Sgt. Pepper's Lonely Hearts Club Band [Reprise] (A Cappella) [Remix] 01:26
1.23 Blackbird 02:46
1.24 Hey Bulldog (Instrumental) [Remix] 03:36
1.25 Turn Off Your Mind (Instrumental) [Remix] 02:26
1.26 Flying (I) 00:47
1.27 Something (A Cappella) [Remix] 00:56
1.28 Here Comes The Sun [Remix] 02:50
1.29 And in... [Remix] 00:22
1.30 ...the End [Remix] 03:59
2.1 Yellow Submarine [Remix] 02:51
2.2 I Me Mine (Instrumental) [Remix] 02:30
2.3 I Am The Walrus (Instrumental) [Remix] 04:50
2.4 Lovely Rita [Remix] 02:43
2.5 Hello, Goodbye (Instrumental) [Remix] 03:53
2.6 While My Guitar Gently Weeps [Remix] 04:46
2.7 Across The Universe 03:52
2.8 Why Don't We Do It In The Road? [Remix] 01:37
2.9 Come Together [Remix] 05:03
2.10 Something (Instrumental) [Remix] 03:00
2.11 Oh! Darling (A Cappella) [Remix] 03:17
2.12 I Wan't You [She's So Heavy] (Instrumental) [Remix] 07:44
2.13 Here Comes The Sun (Instrumental/with guitar solo) [Remix] 03:05
2.14 Octopus's Garden [Remix] 03:52
2.15 Maxwell's Silver Hammer (Instrumental) [Remix] 03:32
2.16 Because [Remix] 03:13
2.17 To Get Back Homeward [Remix] 15:38
2.18 Her Majesty [Remix] 01:01
2.19 Good Night [Remix] 02:54
2.20 Her Majesty [Remix] 00:28
3.1 Wild Honey Pie [Remix] 00:54
3.2 Piggies [Remix] 03:15
3.3 Dear Prudence [Remix] 03:12
3.4 Mother Nature's Son 03:04
3.5 Cry Baby Cry [Remix] 02:35
3.6 Sexy Sadie [Remix] 03:16
3.7 Blackbird 04:07
3.8 Revolution 1 [Remix] 04:16
3.9 Piggies [Remix] 01:16
3.10 Happiness Is A Warm Gun [Remix] 02:32
3.11 The Continuing Story Of Bungalow Bill [Remix] 03:22
3.12 Ob-La-Di, Ob-La-Da [Remix] 03:08
3.13 Wild Honey Pie [Remix] 00:54
3.14 Honky-Pie [Remix] 02:41
3.15 Me & My Monkey [Remix] 02:42
3.16 Julia 03:44
3.17 Martha My Dear (Instrumental) [Remix] 02:28
3.18 Rocky Raccoon [Remix] 01:38
3.19 Birthday [Remix] 02:42
3.20 While My Guitar Gently Weeps 03:27
3.21 I Will [Remix] 01:26
3.22 Cry Baby Cry [Remix] 02:35
3.23 Revolution (Instrumental) [Remix] 03:22
3.24 Mother Nature's Son [Remix] 02:48
3.25 Wild Honey Pie [Remix] 00:55
3.26 Yer Blues 03:31
3.27 You Better Free Your Mind Instead (Part One) 05:54
3.28 Good Night (Orchestra) [Remix] 03:13
4.1 Come Together 03:28
4.2 Something 03:29
4.3 Maxwell's Silver Hammer 04:39
4.4 Oh! Darling 03:26
4.5 Octopus's Garden 03:09
4.6 I Want You (She's So Heavy) 05:29
4.7 Here Comes The Sun 03:36
4.8 Because 03:03
4.9 The Medley 18:06
4.10 Old Brown Shoe 03:12
4.11 The Ballad Of John & Yoko 03:35
4.12 Oh! Darling 01:03
4.13 Come And Get It 02:33
4.14 Warm Up 03:24
4.15 The Long One 16:07
4.16 Her Majesty 00:35
5.1 Sgt. Pepper's Lonely Hearts Club Band [Remix] 01:50
5.2 It's All Too Much [Remix] 02:30
5.3 Only A Northern Song [Remix] 03:12
5.4 Hey Bulldog [Remix] 02:23
5.5 Love You To [Remix] 02:57
5.6 Penny Lane [Remix] 02:51
5.7 Sun King [Remix] 01:33
5.8 It's All Too Much [Remix] 02:27
5.9 Only A Northern Song [Remix] 02:41
5.10 Yellow Submarine [Remix] 02:40
5.11 Something (Strings) 02:35
5.12 Wild Honey Pie [Remix] 00:52
5.13 Sexy Sadie 04:34
5.14 She Came In Through The Bathroom Window 03:42
5.15 Julia 03:05
5.16 Blackbird 02:43
5.17 Almost Shankara 05:00
5.18 It's All Too Much [Remix] 02:28
5.19 Lucy In The Sky With Diamonds [Remix] 02:57
5.20 Only Another Song [Remix] 01:31
5.21 All You Need Is Love (Instrumental) [Remix] 03:39
5.22 The Fool On The Hill [Remix] 01:17
5.23 Lady Mad Donna [Remix] 02:21
5.24 Something [Remix] 02:55
5.25 Lucy In The Sky With Diamonds 03:38
5.26 Yellow Submarine [Remix] 02:48
5.27 Hey Jude [Remix] 02:11
5.28 The End [Remix] 06:12
6.1 All Together Now [Remix] 01:23
6.2 Baby, You're A Rich Man [Remix] 02:18
6.3 Your Mother Should Know [Remix] 01:41
6.4 Magical Mystery Tour [Remix] 01:14
6.5 Across The Universe [Remix] 02:53
6.6 Only A Northern Song [Remix] 03:42
6.7 Rain [Remix] 02:53
6.8 The Fool On The Hill [Remix] 02:53
6.9 Got To Get You Into My Life [Remix] 02:01
6.101 I'm Only Sleeping [Remix] 02:58
6.11 Blackbird 02:14
6.12 I Am The Walrus [Instrumental] 03:58
6.13 Baby, You're A Rich Man (A Cappella) [Remix] 01:37
6.14 Sgt. Pepper's Garden 04:34
6.15 Sgt. Pepper (Instrumental) 01:06
6.16 Fixing A Hole [Remix] 01:12
6.17 Strawberry Fields Forever 03:11
6.18 Lucy In The Sky With Diamonds [Remix] 03:27
6.19 Good Morning Good Morning (Instrumental) 00:43
6.20 Lonely Hearts 02:08
6.21 Getting Better (Instrumental) 02:19
6.22 With A Little Help From My Friends (Instrumental) 02:38
6.23 Club Band 01:51
6.24 When I'm Sixty-Four 02:49
6.25 Here, There And Everywhere 02:23
6.26 She Said, She Said (Instrumental) 02:34
6.27 Paperback Writer [Remix] 02:06
6.28 Getting Better (Instrumental) 01:38
6.29 Morning, Morning 05:02
6.30 I Went Into A Dream 02:13
6.31 You Became Naked 05:04
7.1 Here Comes The Sun [Remix] 03:08
7.2 The Road To Abbey [Remix] 19:30
7.3 Within You Without You (Instrumental) [Remix] 02:59
7.4 Yellow Submarine [Remix] 01:52
7.5 Lucy In The Sky With Diamonds 03:40
7.6 Everybody's Got Something To Hide 03:03
7.7 Honey Pie [Remix] 02:41
7.8 Nowhere Man (Instrumental) [Remix] 02:46
7.9 Think For Yourself (Instrumental) [Remix] 02:21
7.10 Julia 01:42
7.11 Blackbird 02:21
7.12 Strawberry Fields Forever 02:06
7.13 Lucy In The Sky With Diamonds 04:08
7.14 She's Leaving Home (Strings) 03:48
7.15 The Fool On The Hill [Remix] 04:02
7.16 Something (A Cappella) [Remix] 00:56
7.17 Please Don't Let Me Down 04:47
7.18 Flying [Remix] 02:07
7.19 You Better Free Your Mind Instead (Part Two) 08:18
7.20 Good Night 03:15
8.1 Two Of Us 02:53
8.2 Dig A Pony 03:31
8.3 Across The Universe 03:37
8.4 I Me Mine 01:42
8.5 Let It Be 04:10
8.6 I've Got A Feeling 04:25
8.7 One After 909 03:27
8.8 The Long And Winding Road 03:31
8.9 For You Blue 03:04
8.10 Get Back 04:58
8.11 Oh! Darling 00:45
8.12 Don't Let Me Down 03:00
8.13 She Came In Through The Bathroom Window 03:01
8.14 Old Brown Shoe 03:20
8.15 Oh! Darling 03:17
8.16 All Things Must Pass 03:19
8.17 Maxwell's Silver Hammer 05:03
8.18 Get Back 03:45
8.19 Get In The Mood 18:37
9.1 Walrus Eleanor Is Leaving Something In The Golden Sun [Remix] 00:58
9.2 Break Down [Remix] 01:24
9.3 Sun King [Remix] 02:26
9.4 Mean Mr. Mustard [Remix] 01:33
9.5 Polythene Pam [Remix] 01:12
9.6 She Came In Through The Bathroom Window [Remix] 01:58
9.7 Golden Slumbers [Remix] 01:31
9.8 Carry That Weight [Remix] 01:36
9.9 The End [Remix] 02:13
9.10 Her Majesty [Remix] 00:25
9.11 Mother Nature's Son 03:17
9.12 Cry Baby Cry 03:02
9.13 Happiness Is A Warm Gun 03:09
9.14 While My Guitar Gently Weeps 03:02
9.15 Except Me And My Monkey (Instrumental) 01:27
9.16 Glass Onion 02:12
9.17 Revolution (Instrumental) 03:25
9.18 Give Peace A Chance 02:18
9.19 I Want You (She's So Heavy) [Instrumental] [Remix] 07:47
9.20 Here Comes The Sun [Remix] 03:05
9.21 Oh! Darling (Instrumental) [Remix] 03:27
9.22 For No One (Instrumental) [Remix] 01:57
9.23 Sexy Sadie [Remix] 03:15
9.24 Revolution 03:27
9.25 River Rhine 04:20
9.26 Polythene Pam [Remix] 01:59
9.27 I Want You (She's So Heavy) [Remix] 07:47
9.28 Flying (II) 02:27
9.29 Good Night [Remix] 02:54
10.1 Get Back! 00:36
10.2 Early 1970 [Ringo, Harrison, (Beatles reference)] 02:20
10.3 I'm The Greatest [Ringo, Lennon & Harrison] 03:21
10.4 All Those Years Ago [Harrison, McCartney & Ringo (Lennon tribute)] 03:47
10.5 Here Today [McCartney (Lennon tribute] 02:27
10.6 When We Were Fab [Harrison & Ringo (Beatles reference)] 03:59
10.7 Early Days [McCartney (Beatles reference)] 04:07
10.8 Never Without You [Ringo (Harrison tribute)] 05:54
10.9 Friends To Go [McCartney (Harrison tribute)] 02:43
10.10 The Song We Were Sig [McCartney (Beatles reference)] 03:54
10.11 Liverpool 8 [Ringo (Beatles reference)] 03:48
10.12 Intro 00:49
10.13 Grow Old With Me [Ringo, McCartney, (Harrison ref), song by Lennon] 04:33
10.14 Free 01:34
10.15 Free As A Bird [Remix] 04:30
10.16 Real Love [Remix] 03:52
10.17 Something (Instrumental) [Remix] 02:56
10.18 Eleanor Rigby (The Beatles Anthology) 02:00
10.19 All You Need Is Love 04:18
10.20 Golden Slumbers, Carry That Weight (Orchestra) 03:17
10.21 Grow Old With Us [Remix] 03:21
10.22 The Way She Moves [Remix] 01:18
10.23 Real Love [Remix] 04:08
10.24 Free As A Bird [Remix] 04:28
10.25 Good Night Child [Remix] 02:22
11.1 I Want To Hold Your Hand (Instrumental) [Remix] 02:23
11.2 I'm A Loser 02:43
11.3 Don't Bother Me 02:32
11.4 Yes It Is 02:26
11.5 I Feel Fine (A Cappella) [Remix] 00:52
11.6 One After 909 02:50
11.7 She's A Woman 04:02
11.8 Do You Want To Know A Secret 02:35
11.9 I Saw Her Standing There 02:50
11.10 From Me To You 01:55
11.11 Help! (Instrumental) 02:18
11.12 A Taste Of Honey 02:12
11.13 There's A Place 01:58
11.14 I Feel Fine 02:44
11.15 Hold Me Tight 02:39
11.16 A Hard Day's Night 02:34
11.17 Thank You Girl 01:57
11.18 Help! 02:27
11.19 She's A Woman 03:17
11.20 Misery 02:07
11.21 Besame Mucho 02:40
11.22 If I Fell 02:35
11.23 Bad To Me 01:28
11.24 Tell Me Why [Remix] 01:52
11.25 And I Love Her (Instrumental) 02:31
11.26 Give Me No More Drugs 14:45
11.27 Just Holding Hands 04:04
12.1 !kcaB teG 00:34
12.2 Blackbird's Nature 04:54
12.3 Julia 02:57
12.4 Lady Madonna 02:15
12.5 Lucy In The Sky With Diamonds 03:05
12.6 I Am The Walrus [Orchestra] 04:03
12.7 I Want You (She's So Heavy) 07:44
12.8 All Things Must Pass 03:05
12.9 While My Guitar Gently Weeps (Instrumental) [Remix] 05:01
12.10 Hello Goodbye (Instrumental) 03:53
12.11 Sexy Sadie [Remix] 05:29
12.12 Oh! Darling 01:01
12.13 Something [Remix] 02:57
12.14 Strawberry Fields Forever 02:02
12.15 I Me Mine 02:10
12.16 She Came In Through The Bathroom Window 05:51
12.17 Helter Skelter (Instrumental) [Remix] 04:32
12.18 The Magicians' Cauldron 17:17
12.19 Her Majesty 00:30
13.1 We Should Organize Our Career 10:43
13.2 Short Fat Fanny 01:52
13.3 Midnight Special 02:07
13.4 Rehearsals 06:40
13.5 All Things Must Pass 02:28
13.6 Kansas City, Miss Ann, Lawdy Miss Clawdy 02:29
13.7 The Hippy Hippy Shake 02:47
13.8 Two Of Us 02:53
13.9 Shake, Rattle And Roll 01:53
13.10 Mailman, Bring Me No More Blues 01:28
13.11 I've Got A Feeling 03:05
13.12 All Things Must Pass 03:17
13.13 Geh Raus 04:33
13.14 Two Of Us 02:49
13.15 To Buddy 03:54
13.16 Don't Let Me Down 02:44
13.17 I've Got A Feeling 04:39
13.18 All Things Must Pass 04:53
13.19 Watching Rainbows 05:06
13.20 Rehearsals 08:56
14.1 Magical Mystery Tour [Remix] 03:58
14.2 Get On The Bus 06:35
14.3 Flying [Remix] 01:59
14.4 I Am The Walrus [Remix] 03:23
14.5 To Mary Bee 01:32
14.6 Road To Bombay 03:25
14.7 Trying To Get Better 12:00
14.8 For No One [Remix] 01:57
14.9 Glass Onion 01:55
14.10 Happiness Is A Warm Gun 01:55
14.11 Helter Skelter (Instrumental) [Remix] 04:29
14.12 Sour Milk Sea 03:39
14.13 A Case Of The Blues 02:15
14.14 You Better Free Your Mind Instead (Part Three) 07:33
14.15 Here Comes The Sun (Instrumental) [Remix] 02:57
14.16 Oh! Darling (Alternate Vocal) 03:25
14.17 Something 05:25
14.18 Strawberry Fields Forever 01:16
14.19 Your Mother Should Know 02:30
14.20 Jessie's Dream 03:28
14.21 To The Top Of The Slide [Remix] 04:03
15.1 There's A Place 02:06
15.2 One After 909 02:57
15.3 I'm A Loser 02:09
15.4 She's A Woman 04:05
15.5 I Saw Her Standing There 03:02
15.6 Hold Me Tight 02:34
15.7 I Feel Fine 02:28
15.8 Help! (Instrumental) 02:00
15.9 Yes It Is 02:51
15.10 A Hard Day's Night 02:37
15.11 Misery 01:48
15.12 From Me To You 01:27
15.13 Thank You Girl 02:04
15.14 One After 909 03:25
15.15 There's A Place 02:03
15.16 She's A Woman 03:13
15.17 From Me To You 02:01
15.18 Help! 02:26
15.19 Hold Me Tight 01:41
15.20 I Saw Her Standing There 02:56
15.21 A Hard Day's Night 03:00
15.22 Thank You Girl 02:18
15.23 Misery 01:52
15.24 There's A Place 01:55
15.25 I'll Follow The Sun 00:58
15.26 I Saw Her Standing There (Cavern Club) 03:05
15.27 Some Other Guy (Cavern Club) 02:12
15.28 Kansas City (Cavern Club) 02:42
15.29 One After 909 (Cavern Club) 03:07
15.30 All My Loving (The Morecambe & Wise Show) 02:06
15.31 Love Me Do (People And Place) 00:41
15.32 A Taste Of Honey (People And Place) 01:21
15.33 There's A Place 02:10
15.34 I Believe In Christmas Day 02:20
16.1 I've Got A Feeling 04:01
16.2 Don't Let Me Down 03:22
16.3 She Came In Through The Bathroom Window 01:44
16.4 Two Of Us 04:11
16.5 One After 909 02:54
16.6 Let It Be 06:06
16.7 Get Back 04:02
16.8 Oh! Darling 02:45
16.9 For You Blue 02:59
16.10 The Long And Winding Road 04:59
16.11 I Me Mine 06:17
16.12 Get Back 04:12
16.13 Two Of Us 05:36
16.14 All Things Must Pass 03:54
16.15 Something 04:20
16.16 I Want You (She's So Heavy) 03:32
16.17 Dig A Pony 04:47
16.18 They All Great! 02:07
16.19 Teddy Boy 02:14
16.20 I Think Is Lunch Ready? 01:50
16.21 Teddy Boy 03:35
17.1 Free As A Bird [Remix] 04:02
17.2 Real Love [Remix] 03:56
17.3 You Better Free Your Mind Instead (Part Four) 08:57
17.4 Give Peace A Chance 00:39
17.5 It's Not Too Bad 01:42
17.6 Can You Take Me Back? 02:21
17.7 Blue Suede Shoes 02:18
17.8 Kansas City, Miss Ann, Lawdy Miss Clawdy 03:50
17.9 Oh! Darling (Instrumental) [Remix] 03:26
17.10 Chating & Sig 15:00
17.11 All Right 01:01
17.12 Give Peace A Chance 01:51
17.13 It's Not Too Bad 01:43
17.14 Ma Belle 02:51
17.15 I Want You, Yoko 02:23
17.16 Strawberry Fields Forever 01:55
17.17 Nowhere To Go 01:59
17.18 I'd Have You Any 01:52
17.19 On My Balcony 02:32
17.20 It's Not Too Bad 00:58
17.21 Piano Songs 03:54
17.22 The Fields Forever 02:31
17.23 Got To Hide 00:50
17.24 Flying (III) 02:35
17.25 Real Love [Remix] 04:23
18.1 Get Back 03:10
18.2 I've Got A Feeling 03:35
18.3 Many Of Us 05:31
18.4 One After 909 02:57
18.5 I Me Mine 04:24
18.6 Let It Be 06:30
18.7 Old Brown Shoe 04:28
18.8 I've Got A Feeling 04:11
18.9 Two Of Us 02:54
18.10 Something 03:54
18.11 Maxwell's Silver Hammer 04:24
18.12 The Long And Winding Road 03:55
18.13 Oh! Darling 03:22
18.14 Get Back 03:46
18.15 Don't Let Me Down 04:04
18.16 She Came In Through The Bathroom Window 05:51
18.17 On The Road Again (I) 12:27
19.1 Love Me Do (with Ringo) 02:25
19.2 It's Only Love (with George Martin Orchestra) [Remix] 02:36
19.3 Michelle (with George Martin Orchestra) [Remix] 02:51
19.4 This Boy (with George Martin Orchestra) [Remix] 02:04
19.5 And Our Bird Can't Sing 07:57
19.6 I Saw Her Standing There 02:58
19.7 There's A Place 01:53
19.8 From Me To You 02:10
19.9 Misery [Remix] 01:48
19.10 Rock & Roll Music 02:31
19.11 Yes It Is 02:42
19.12 A Taste Of Honey (BBC) 02:02
19.13 Love Me Do (BBC) 02:27
19.14 Please Please Me (BBC) 02:11
19.15 She Loves You (BBC) 02:28
19.16 I Want To Hold Your Hand (BBC) 02:19
19.17 Till There Was You (BBC) 02:19
19.18 Roll Over Beethoven (BBC) 02:17
19.19 This Boy (Washington Coliseum) 02:28
19.20 Yesterday (Munich) 02:35
19.21 It's Only Love [Remix] 01:56
19.22 From Me To You 01:51
19.23 There's A Place 01:56
19.24 Help! 00:18
19.25 Unforgettable 20:47
20.1 One After 909 05:08
20.2 I've Got A Feeling 04:16
20.3 Two Of Us 03:55
20.4 Get Back 02:42
20.5 Across The Universe 03:36
20.6 Maxwell's Silver Hammer 04:56
20.7 Don't Let Me Down 05:42
20.8 Let It Be 08:51
20.9 Get Back 03:14
20.10 All Things Must Pass 04:48
20.11 The Long And Winding Road 04:36
20.12 For You Blue 04:41
20.13 Lazy Bones 08:01
20.14 Get Back 02:38
20.15 On The Road Again (II) 12:21
21.1 I Saw Her Standing There 03:04
21.2 I Feel Fine 01:43
21.3 From Me To You 01:48
21.4 Hold Me Tight 02:30
21.5 There's A Place 01:49
21.6 Thank You Girl 02:05
21.7 Cry For A Shadow (New RMST) 02:23
21.8 Hello Little Girl (New RMST) 01:40
21.9 Three Cool Cats (New RMST) 02:25
21.10 Lend Me Your Comb (New RMST) 01:49
21.11 Like Dreamers Do (New RMST) 02:35
21.12 Besame Mucho (New RMST) 02:36
21.13 You Know What To Do (New RMST) 01:58
21.14 One After 03:36
21.15 Cayenne (New RMST) 01:13
21.16 The Barber Of Seville 02:26
21.17 Carousel Of Light (Part I) 26:12
21.18 Carousel Of Light (Part II) 17:14
22.1 Two Of Us 03:38
22.2 Get Back 03:44
22.3 I've Got A Feeling 04:06
22.4 Let It Be 04:53
22.5 Old Brown Shoe 03:31
22.6 Get Back (Satirical Protest Song) 02:42
22.7 The Long And Winding Road 03:32
22.8 I've Got A Feeling 04:41
22.9 Don't Let Me Down 09:01
22.10 Get Back 04:11
22.11 Something 02:10
22.12 Two Of Us 04:45
22.13 Just Fun (15) 05:02
22.14 Get Back 03:49
22.15 The Long And Winding Road 03:31
22.16 I Want You (She's So Heavy) 02:36
22.17 Get Back 06:56
22.18 Number Nine [Remix] 07:06
23.1 She Loves You (Drop In) 02:22
23.2 A Hard Day's Night (Palais des Sports) 02:33
23.3 I Feel Fine (Blackpool) 02:12
23.4 Ticket To Ride (Blackpool) 02:44
23.5 Yesterday (Blackpool) 02:42
23.6 Help! (Blackpool) 02:49
23.7 This Boy (The Morecambe & Wise Show) 02:19
23.8 I Want To Hold Your Hand (The Morecambe & Wise Show) 02:23
23.9 All My Loving (The Ed Sullivan Show) 02:11
23.10 Please Please Me (The Ed Sullivan Show) 01:54
23.11 She Loves You (The Prince Of Wales) 02:49
23.12 Till There Was You (The Prince Of Wales) 02:54
23.13 Twist And Shout (The Prince Of Wales) 03:04
23.14 From Me To You (The Prince Of Wales) 01:48
23.15 Yesterday (The Ed Sullivan Show) 02:20
23.16 I'll Get You (London Palladium) 02:04
23.17 I'm Down (Munich) 01:15
23.18 Around The Medley (Around The Beatles) 04:05
23.19 Twist And Shout (Shea Stadium) 02:33
23.20 She's A Woman (Shea Stadium) 03:00
23.21 I Feel Fine (Shea Stadium) 02:37
23.22 Dizzy Miss Lizzy (Shea Stadium) 03:18
23.23 Ticket To Ride (Shea Stadium) 02:39
23.24 Everybody's Trying To Be My Baby (Shea Stadium) 02:47
23.25 Can't Buy Me Love (Shea Stadium) 02:45
23.26 Baby's In Black (Shea Stadium) 02:53
23.27 Act Naturally (Shea Stadium) 02:47
23.28 A Hard Day's Night (Shea Stadium) 03:21
23.29 Help! (Shea Stadium) 02:46
23.30 I'm Down (Shea Stadium) 02:37
24.1 I've Got A Feeling 03:50
24.2 Get Back 02:42
24.3 All Things Must Pass 03:33
24.4 Oh! Darling 02:22
24.5 One After 909 02:42
24.6 The Long And Winding Road 03:57
24.7 Get Back 04:14
24.8 Maxwell's Silver Hammer 03:21
24.9 Two Of Us 06:04
24.10 I've Got A Feeling 03:54
24.11 All Things Must Pass 03:21
24.12 I Want You (She's So Heavy) 02:48
24.13 I Me Mine 05:00
24.14 Get Back 03:34
24.15 I've Got A Feeling 03:47
24.16 I Had A Dream 05:10
24.17 Get Back 02:40
24.18 Interlude 09:08
24.19 Get Back (Satirical Protest Song) 04:29
24.20 Like A Freak Rocker 02:54
25.1 Love Me Do 02:27
25.2 Till There Was You 02:12
25.3 A Taste Of Honey 01:54
25.4 You Really Got A Hold On Me 02:56
25.5 Anna (Go To Him) 03:01
25.6 Roll Over Beethoven 02:17
25.7 I'll Get You 02:04
25.8 I Saw Her Standing There 02:40
25.9 I Got To Find My Baby 01:58
25.10 Do You Want To Know A Secret 01:54
25.11 Chains 02:20
25.12 Twist And Shout 02:35
25.13 Money (That's What I Want) 02:39
25.14 She Loves You 02:15
25.15 A Shot Of Rhythm And Blues 02:07
25.16 All My Loving 02:05
25.17 Boys 01:52
25.18 Please Please Me 01:58
25.19 Some Other Guy 02:02
25.20 The Hippy Hippy Shake 01:42
25.21 From Me To You 01:52
25.22 Too Much Monkey Business 01:50
25.23 Long Tall Sally 01:48
25.24 A Taste Of Honey 02:06
25.25 Till There Was You 02:14
25.26 You Really Got A Hold On Me 02:57
25.27 Chains 02:23
25.28 Do You Want To Know A Secret 01:49
25.29 She Loves You 02:14
25.30 I Saw Her Standing There 02:37
25.31 Love Me Do 02:16
25.32 Boys 02:11
25.33 A Taste Of Honey 02:04
25.34 She Loves You 02:20
25.35 From Me To You 01:33
25.36 Roll Over Beethoven 02:27
26.1 I've Got A Feeling 03:43
26.2 Get Back 03:44
26.3 The Long And Winding Road 03:33
26.4 Oh! Darling 04:03
26.5 I Me Mine 00:38
26.6 She Came In Through The Bathroom Window 03:08
26.7 Get Back 02:28
26.8 Drive Me Mad 02:06
26.9 Two Of Us 07:09
26.10 Get Back 04:12
26.11 Octopus's Garden 05:11
26.12 Two Of Us 03:29
26.13 Get Back (Satirical Protest Song) 04:29
26.14 I've Got A Feeling (I Had A Dream) 05:32
26.15 I Want You (She's So Heavy) 05:31
26.16 Get Back 05:47
26.17 Just Fun (16) 10:30
26.18 Avant Piece 04:36
27.1 Get Back 03:14
27.2 Oh! Darling 02:08
27.3 I've Got Another Feeling 04:43
27.4 All Things Must Pass 03:57
27.5 One After 909 03:15
27.6 Maxwell's Silver Hammer 05:19
27.7 Get Back 03:32
27.8 The Long And Winding 05:23
27.9 I've Got A Feeling 04:28
27.10 I Me Mine 01:54
27.11 Get Back (Satirical Protest Song) 04:53
27.12 Join The Beatles 03:10
27.13 Across The Universe 08:05
27.14 Get Back 03:49
27.15 Octopus's Garden 03:41
27.16 I Want You (She's So Heavy) 02:24
27.17 The Long And Winding Road 05:25
27.18 Get Back (Satirical Protest Song) 05:05
27.19 Two Of Us 05:24
28.1 I've Got A Feeling 03:45
28.2 Get Back 03:42
28.3 All Things Must Pass 04:23
28.4 One After 909 04:15
28.5 Two Of Us 03:28
28.6 Get Back 02:25
28.7 The Long And Winding Road 03:06
28.8 I've Got A Feeling 06:38
28.9 Don't Let Me Down 05:20
28.10 Get Back (Satirical Protest Song) 03:53
28.11 Maxwell's Silver Hammer 05:20
28.12 I Want You (She's So Heavy) 02:10
28.13 Get Reach 04:59
28.14 Microbiotics Pilules 03:54
28.15 I Want You (She's So Heavy) 01:47
28.16 Get Back 02:54
28.17 I Me Mine 03:39
28.18 Let It Be 08:47
28.19 Get Back 05:13
29.1 Get Back 05:42
29.2 I've Got A Feeling 07:43
29.3 The Long And Winding Road 06:21
29.4 Maxwell's Silver Hammer 07:33
29.5 Get Back 02:43
29.6 All Things Must Pass 03:58
29.7 Two Of Us 04:55
29.8 Get Back 03:44
29.9 I've Got A Feeling 06:59
29.10 I Me Mine 00:44
29.11 Across The Universe 04:05
29.12 Get Back To Where You Once Belonged 05:13
29.13 Get Back 03:46
29.14 I've Got A Feeling 07:10
29.15 Let It Be 09:11
30.1 Get Back 02:56
30.2 I'd Hate To Miss The Train 04:44
30.3 I've Got A Feeling 03:36
30.4 All Things Must Pass 03:29
30.5 Get Back 04:25
30.6 The Long And Winding Road 03:20
30.7 One After 909 03:06
30.8 Get Back 04:25
30.9 Maxwell's Silver Hammer 05:30
30.10 Two Of Us 07:20
30.11 Get Back 04:41
30.12 On The Road Again (III) 08:39
30.13 It's Alright 01:44
30.14 Say The Word [Gauguin Remix] 03:03
30.15 On The Road Again! 03:19
30.16 don't Let It bother you 06:17
30.17 Let It Be 03:52
30.18 Hoping To Take You Away 03:08
30.19 The Last Chord 01:48
DOWNLOAD
uploadgig
Cita:https://uploadgig.com/file/download/7893...part01.rar
https://uploadgig.com/file/download/D3C0...part02.rar
https://uploadgig.com/file/download/175b...part03.rar
https://uploadgig.com/file/download/7a60...part04.rar
https://uploadgig.com/file/download/B19a...part05.rar
https://uploadgig.com/file/download/e1b5...part06.rar
https://uploadgig.com/file/download/e33f...part07.rar
https://uploadgig.com/file/download/2Eed...part08.rar
https://uploadgig.com/file/download/b0c7...part09.rar
https://uploadgig.com/file/download/a593...part10.rar
https://uploadgig.com/file/download/0429...part11.rar
https://uploadgig.com/file/download/BeaC....part1.rar
https://uploadgig.com/file/download/0c23....part2.rar
https://uploadgig.com/file/download/eD9F....part3.rar
https://uploadgig.com/file/download/c8f9....part4.rar
https://uploadgig.com/file/download/227c....part5.rar
https://uploadgig.com/file/download/a8c8....part6.rar
rapidgator
Cita:https://rapidgator.net/file/a38c6479743d...1.rar.html
https://rapidgator.net/file/228541ff7aa1...2.rar.html
https://rapidgator.net/file/8cb95e4e72df...3.rar.html
https://rapidgator.net/file/efdccb2a48e0...4.rar.html
https://rapidgator.net/file/e24f74a8d5aa...5.rar.html
https://rapidgator.net/file/9691bc10f950...6.rar.html
https://rapidgator.net/file/12980521cc64...7.rar.html
https://rapidgator.net/file/6097685f4e3a...8.rar.html
https://rapidgator.net/file/92f0c829aea7...9.rar.html
https://rapidgator.net/file/07c6af7c470c...0.rar.html
https://rapidgator.net/file/a32b4efa82d2...1.rar.html
https://rapidgator.net/file/888a2c69bce7...1.rar.html
https://rapidgator.net/file/ea47dd6c8670...2.rar.html
https://rapidgator.net/file/278530248a19...3.rar.html
https://rapidgator.net/file/507a892543b3...4.rar.html
https://rapidgator.net/file/efc665e4fc46...5.rar.html
https://rapidgator.net/file/a06592d9d01f...6.rar.html
nitroflare
Cita:http://nitroflare.com/view/97862F8ABBEC9...part01.rar
http://nitroflare.com/view/3EAEEC73A8C2A...part02.rar
http://nitroflare.com/view/2452030646BF6...part03.rar
http://nitroflare.com/view/9FB2EE1C3CBF2...part04.rar
http://nitroflare.com/view/73A943E84B1B0...part05.rar
http://nitroflare.com/view/89E3383526BCA...part06.rar
http://nitroflare.com/view/7805EE8DFA023...part07.rar
http://nitroflare.com/view/3F2EA2A7B5F20...part08.rar
http://nitroflare.com/view/D22A7823D1F08...part09.rar
http://nitroflare.com/view/A630EA1D6361E...part10.rar
http://nitroflare.com/view/6BB5441176FAE...part11.rar
http://nitroflare.com/view/F9E9DB30E7848....part1.rar
http://nitroflare.com/view/423A3AAC48E2C....part2.rar
http://nitroflare.com/view/D835B58BA6F61....part3.rar
http://nitroflare.com/view/9FC59C52AB3E5....part4.rar
http://nitroflare.com/view/B3C7C027697CC....part5.rar
http://nitroflare.com/view/845B54B0F4E8D....part6.rar