08-02-2021, 10:53 AM
Helene Fischer - Die Helene Fischer Show Vol.1 (2020) Blu-Ray 1080i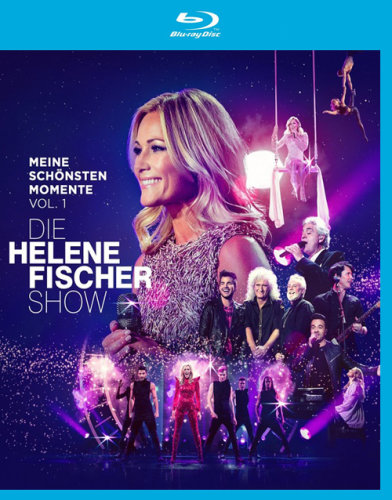 Screenshots:
Setlist:
01.Nessaja von Helene Fischer & Peter Maffay
02.OK feat. James Blunt
03.When You're Gone feat. Bryan Adams
04.Angel feat. Josh Groban
05.So wie Du warst feat. Unheilig
06.Weit übers Meer feat. Santiano
07.Regenbogenfarben feat. Kerstin Ott
08.Mit dem Wind / Nanana (Mash Up) feat. The Kelly Family
09.Bring Me To Life
10.Open Road feat. Kiefer Sutherland
11.Despacito & Échame La Culpa feat. Luis Fonsi
12.Per Il Resto Tutto Bene feat. Eros Ramazzotti
13.Run feat. Leona Lewis
14.Euphoria feat. Loreen
15.Sexbomb feat. Tom Jones
16.Just Pretend feat. Elvis Presley
17.You Raise Me Up feat. Celine Tam
18.Atemlos durch die Nacht feat. Melanie Oesch
19.Durch den Sturm feat. Matthias Schweighöfer
20.Merci Chérie
21.Nessaja feat. Peter Maffay
22.Wie früher mal dich feat. Mark Forster
23.Shallow feat. Roland Kaiser
24.It's My Life feat. Sunrise Avenue
25.Ich bin bereit
26.The Prayer feat. Andrea Bocelli
27.Backstreet Boys Medley feat. Nick Carter
28.Herzbeben feat. Stephanie Stumph
29.Falling Slowly feat. Gregor Meyle
30.Liebe lohnt sich feat. Maite Kelly
31.Fields Of Gold feat. Max Giesinger
32.Castles feat. Freya Ridings
33.Heast as net feat. Ina Regen
34.Hallelujah feat. Rea Garvey
35.Hello feat. Naturally 7
36.Never Enough
37.Make You Feel My Love feat. Michael Bolton
38.Purple Rain feat. Gregory Porter
39.Up feat. Olly Murs
40.Amazing Grace feat. The Crossed Swords Pipes & Drums
Info:
Genre:
  Pop | Disco
Quality:
  Blu-Ray | 1080i
Format:
  M2TS | 32.9Mbps
Length:
  02:48:05 | 43.8Gb
Video:
  H.264 | 1920x1080 | 16:9 | 25.000fps
Audio:
  LPCM | 2304kbps | 48kHz | 2 channels: L R
Language:
  Deutch | English
Download:
Subyshare.com,  xubster.com
https://www.keeplinks.org/p84/60211dc45c0d3
pass: 345
Attention:
Files are subject to expiration and can be automatically deleted if their not downloaded 30 days after the last download.