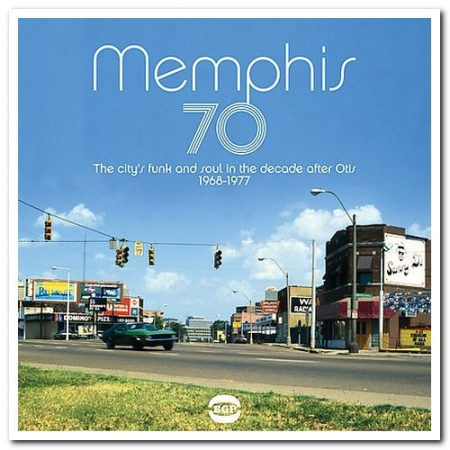 FLAC (tracks+cue, log) | Funk, Soul, R&B | 1h | 316 MB
* The death of Otis Redding in late 1967 was a watershed in the sound of Memphis soul. He had been the figurehead and defining figure as Stax had taken a distinctly gritty take on soul to the top of the US charts. "Memphis 70" shows what happened next as local musicians emerged from Otis' shadow and created new and exhilarating sounds. The most successful of these sounds meant artists such as Isaac Hayes eclipsed Otis' success, but in typical BGP style we take the road less travelled to bring a selection of sought-after rarities and unreleased gems that perfectly reflect the era.
* Our earliest cut is the in-demand funk/ R&B groove of Stacy Lane's `No Ending' produced by the legendary Packy Axton, the founder of the Mar-Keys. We have plenty of funky grooves for those that want to keep the dancefloor moving, such as Alvin Cash's duet with Doris Porter, `Tip Toeing', the incredibly rare `Hard s' by Billy Cee, the collectable break-beat `Mississippi Mud' by the Smithstonian, and an amazing unreleased version of `Shake' by the Ovations. There are also great slices of funk by the Optimistics, Lillian Hale, Blackrock (a favourite of Paul Weller) and Bow-Legs Miller.
* The rest of the compilation is made up with some pieces of soul music that are truly for the connoisseur. There is an unreleased masterpiece from David Porter from the end of the Stax era, an unreleased version of Aretha Franklin's `Pullin'' by the Minits and an amazing two-stepper by the under-recorded Willie Walker, one that will please the collectors. We also have an Al Green-style take on `Who's Been Wag Your Oven' by the unknown, Sir Walter. The soul sides are rounded off by a couple of pure classics by John Gary Williams', `Come What May' and Mel and Tim's - `Keep The Faith'.
* The whole lot is rounded up with some fantastic pictures, in-depth notes and an amazing cover image to make this a fine start to 2008 for BGP.
1. Smithstonian - Mississippi Mud (03:01)
2. David Porter - I Can't Tell No Difference (03:16)
3. Willie Walker - Two Paces Ahead Of Love (03:24)
4. The Minits - Pullin' (02:14)
5. Art Jerry Miller - Strange Things (04:14)
6. The Ovations - Shake (03:39)
7. Stacy Lane - No Ending (02:17)
8. Alvin Cash - Tip Toeing (02:51)
9. Gene "Bowlegs" Miller & Friends - It's Bump (02:28)
10. Blackrock - Blackrock Yeah Yeah (02:52)
11. Mel & Tim - Keep The Faith (03:56)
12. Sir Walter - Who's Been Wag My Oven (03:45)
13. John Gary Williams - Come What May (03:53)
14. Barbara & The Browns - Watch Dog (Alt) (02:30)
15. Kannon - The Way Of Me (02:36)
16. Lillian Hale - Don't Boom Boom (02:41)
17. LaCleve Milon - Take A Giant Step (02:45)
18. Willie Toliver - Papa Killed A Chicken (02:38)
19. Billy Cee & Freedom Express - Hard s (02:55)
20. The Optimistics - Dig It (She's In The Groove) (02:40)
DOWNLOAD
uploadgig
Cita:https://uploadgig.com/file/download/dce1...emp70_.rar
rapidgator
Cita:https://rapidgator.net/file/4a73b094ac84..._.rar.html
nitroflare
Cita:http://nitroflare.com/view/F4EDF7338AB5A...emp70_.rar